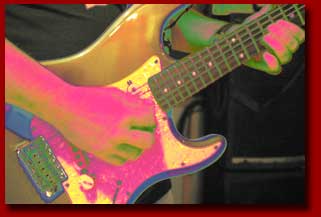 Cryin' Out Loud was formed in the autumn of 1986, around the time that the nuclear reactor at Chernobyl in the Ukraine went into meltdown. The popular music press have regularly tried to link the two events, but apart from the fact that Hillbilly Billy Hill's private member allegedly glows in the dark there is no other tangible evidence that the original members of the band have anything particularly odd about them. Although Al Fresco is known to have a particular liking for smearing Marmite all over his body whenever there's a full moon . . .
The story goes that a young Hillbilly Billy Hill found himself alone, and sitting in a darkened room. He was having thoughts, some of which he shouldn't have been having, and some that weren't even his to start with. But he wasn't proud. Somewhere from the empty darkness came a voice that told Billy to find some purpose to his life, and if he couldn't then at least he should go forth and create a real band.
But where to start? As bands perform songs Billy reasoned that ideally his first big idea would be to find a singer. Perhaps it was the bump on the head after the fall down a flight of stairs on the night of seeing Ferric Eric perform at the Red Lion in Milford, or just the bout of his insanity now in round seven, but either way this seemed a positive thought. Ferric Eric could sing, and some. "The best voice I've ever heard," Wheelbarrow once said. "It was like Jake Thakeray on Mandies!" Ferric wasn't three bad at guitar nor blues harp either, so the deal was done.
Now who he, Wheelbarrow? A drummer of some (dis)repute Wheelbarrow had returned to the UK in early 1986, having fled Thailand for undisclosed reasons. Fresh from the jungle he still had the sounds of the 'fierce and dangle' R&B he had heard played so often by the Filipino bands in the Issan region of northeastern Thailand rattling at his ears. Hillbilly reasoned that any drummer lacking as much sanity as Wheelbarrow would complement the line up to perfection. Wheelbarrow reasoned that if anyone could understand his fierce and dangle Billy would, and that he'd truly found a home - and 'sides he needed funds for his not inconsiderable thirst.
But who for the low notes, for no band has a soul without a bass player? There was no contest, for no contest was needed. There staring Billy in the face was the superbly talented Al Fresco and all his follicles, of which there were many. There was only one vacancy for bass player and there was only one Al Fresco. The world would not have been a safe place any other way. Wheelbarrow and Fresco had been playing together since 1966 anyway and he was likely the only person to really get to grips with Wheelbarrow's fierce and dangle, although many before him had died trying.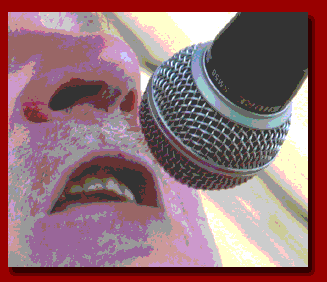 Then a thought suddenly struck Hillbilly in the back of the head, or was it the door for he was forever catching his not inconsiderable mane of hair (sadly long since thieved by a passing brigand) on the handle? He had no lead guitar for the band and he needed one. Doh. Of course Hillbilly Billy Hill who'd played guitar alongside Ferric Eric for over twenty years, and although he was rather small he was near on inch-perfect. Hillbilly's legendary exploration of his pick guards, tailpieces, top-nuts and knobs had for years brought a tear to the eyes of the girls at gigs, and a portly number of the boys it should be said too.
And so it was, the fall of Cryin' Out Loud from obscurity. What emerged was the chrysalis of a monster band that was to take the local music scene by storm. And some. Cryin' Out Loud had hit the road to become the legendary mystery train running from Howlin' Wolf to Leonard Cohen, and stopping off at Chuck Berry, Bob Dylan and B.B. King along the way . . .
WHOO . . . WHOOO . . . WHOOOOOOOO!
Now twenty years on the band has established itself as the cornerstone that all the up and coming local bands aspire too. Tragically Wheelbarrow died in December 1996 and took the short staircase to the Grand Ol' Opry in the sky. His enormous shoes were filled, if not in bulk then certainly in ability, by Magic Matt. Who he, Magic Matt? None other than the progeny of Al Fresco, and what better stock could never be disputed.
And what now?
No-one cares as long as they continue
to all love fierce and dangle music.
Which is a good job - 'cos that's what
Cryin' Out Loud is all about.
Meet the band here
Simply confused and want to go back to the top?
Whack drummer Magic Matt on the head . . .