The Cryin' Out Loud
Whispering Gallery

Now's your chance to smother the guys in honey, or frankly any substance that comes to hand. They won't mind as long as its sticky. The band love you lot, god only knows why, but there it is. So they'd appreciate reams and reams of praise and fan mail. We reckon they may have to be a bit more realistic though, and unless they want a stark guest book they're going to have to take a bit of stick here too. After all a heckler against the guy with a microphone is on to a loser the moment he opens his mouth. Here he's got a chance. Rise to the temptation!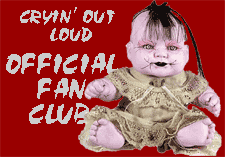 Sorry! Yer'll have to abide yer time a tad on this one. The last guy who was sorting the guest book gizmo out was fired for being, well, a boring old fart - so we're looking fer another. But we've got to get out of the pub first . . .
This has taken bleedin' years and still nothing has happened. So the band has taken matters into their own hands and you can get up close with what's going on in their scandalous personal lives right here on Facebook! Have fun!